Mad Season and Temple of the Dog
From RollingStone.com: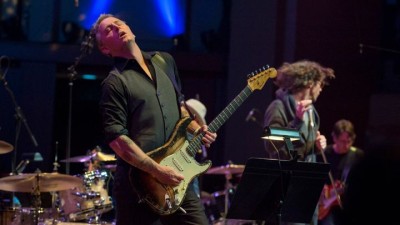 Mad Season, Temple of the Dog Reunite at Overwhelming One-Off Show
Two beloved Nineties acts reform with help from the Seattle Symphony Orchestra and a handful of grunge all-stars
BY CORBIN REIFF | January 31, 2015
Even amid the current wave of limited-run reunion tours and one-night-only performances, last night's resurrection of the grunge supergroup Mad Season seemed particularly inexplicable. On top of that, what could have been little more than another rock reformation gig turned out to be a genuinely special, surprising show that both exceeded its own hype and outdid its own billing.
Formed in 1994, Mad Season was made up of Alice in Chains singer Layne Staley, Pearl Jam guitarist Mike McCready, Screaming Trees drummer Barrett Martin and Walkabout bassist John Baker Saunders. The group made only one record together, 1995's Above, before conflicting obligations pulled them apart. Any serious hopes for an original-lineup true reunion were dashed by the death of Saunders in 1999 and Staley in 2002.
Nevertheless, the evening kicked off properly with the Seattle Symphony Orchestra performing a trio of classical compositions. The last of these was actually written by McCready, who strapped on his 1959 Gibson Les Paul to play along. After a short intermission, he and Martin strode onto the stage alongside the departed members' all-star replacements: Guns N' Roses bassist Duff McKagan and Soundgarden singer Chris Cornell.
After taking a moment to steady themselves, McCready nodded back to symphony conductor Ludovic Morlot and launched into a 20-minute set comprising all three of Above's singles: "Long Gone Day" came first, then radio hit "River of Deceit" and finally "I Don't Know Anything." It would have been special to hear these songs performed again even without accompaniment, but the force of the orchestra drove each one to new places, adding dimension and revealing depth. This rendition of "I Don't Know Anything," a song that already contains a massive, pile-driver riff, especially overwhelmed the 2,500-seat Benaroya Hall.
Here, both band and the orchestra took a bow and departed. A few moments later Mad Season reemerged with Pearl Jam's Matt Cameron and Lazy Susan's Kim Virant, who took over drums and vocals for the dirge-like "Wake Up." Virant was then supplanted by Walking Papers' Jeff Angell for "Lifeless Dead," but they worked together to tackle "I'm Above."
When the song came to an end, everyone but McCready left the stage. The guitarist, meanwhile, stepped to the microphone and introduced two more Pearl Jam bandmates: Stone Gossard and Jeff Ament, who were followed onstage by Cornell and Cameron. Minus only Eddie Vedder, it was a nearly full-on reunion of Temple of the Dog, the short-lived band formed in the wake of Mother Love Bone frontman Andrew Wood's 1990 death. The guys allowed the crowd a moment to regain their composure, then hit them with a one-two punch of "Call Me a Dog" and "Reach Down," the latter of which Cornell dedicated to Wood.
The guys in Temple left McCready a moment to address the audience and pay tribute to his departed Mad Season bandmates: "It's with a heavy heart sometimes to hear this music," he admitted. "But I know that it means many things to a lot of people."
After finishing his thought, he waved McKagan and Martin back onstage, and joined by Alice in Chains drummer Sean Kinney, the group played a truly haunting rendition of Above closer "All Alone" – this time with lyrics coming from a pre-recorded Staley vocal track. It was a powerful, mesmerizing way to end an undeniably incredible show. It was also a small reminder that no matter how many big names you can add to the guest list, some break-ups are more permanent than others.