In the summer between my junior and senior years in prep school, Rolling Stone ran an article on the underground music scene in the US, which included R.E.M., the Minutemen, Minor Threat, Meat Puppets, Black Flag, Dead Kennedys, and a Minneapolis band described as being power punk pop, Hüsker Dü. In July, the group released a double LP, Zen Arcade. The first listen was devastating. They screamed and sang and road feedback into hell and acoustic guitars into heaven. I felt as if a veil had been lifted. There was a whole world of music that I didn't know existed before the RS piece, and I wanted to hear it all. The first two R.E.M. albums raised the hairs on neck. Minor Threat scared the hell out of me. My mom banned the Dead Kennedys because of their name. (They still ended up on my turntable!) In the fall, I bought Let It Be by the Replacements, another Minneapolis band. Just the name of the record told me that these guys didn't bow to the gods of classic rock. But Hüsker Dü led the pack. When they signed to Warner Brothers in '86, it was exciting: the underground, in all its noisy glory, breaking into the mainstream. Alas, it was not to be. By '88, they broke up (in a messy way). But the damage had been done: a transcendent R.E.M. broke through the year before, and in 1991, Nirvana released Nevermind (named after a Replacements song) and nothing has been the same since. Hüsker Dü 's drummer/singer Grant Hart was more than just the indie Keith Moon; he was an excellent songwriter. Sometimes he toiled in the shadow of band mate Bob Mould, but Grant's voice was so jubilant, it was hard to forget. I still love and listen to Hüsker Dü. If you want to give them a try, start with the album Brand New Day. It will blow your hair back. RIP Grant.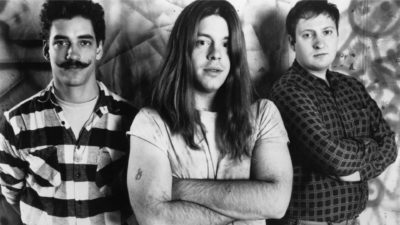 From: RollingStone.Com:
Grant Hart, Husker Du Drummer and Singer, Dead at 56
By Daniel Kreps
Grant Hart, drummer and singer of the seminal alternative rock band Hüsker Dü, has died at 56 after being diagnosed with cancer. The news was confirmed by his bandmate Bob Mould on Facebook.
"The tragic news of Grant's passing was not unexpected to me," Mould wrote. "My deepest condolences and thoughts to Grant's family, friends, and fans around the world. Grant Hart was a gifted visual artist, a wonderful story teller, and a frighteningly talented musician. Everyone touched by his spirit will always remember."
The St. Paul, Minnesota-born Hart formed Hüsker Dü – Danish for "Do you remember?" – in the late Seventies along with singer/guitarist Bob Mould and bassist Greg Norton. The trio met when Mould, then a college student, frequented the record stores that bassist Greg Norton and Hart worked at.
"It was the fall of 1978," Mould wrote on Facebook. "I was attending Macalester College in St. Paul, Minnesota. One block from my dormitory was a tiny store called Cheapo Records. There was a PA system set up near the front door blaring punk rock. I went inside and ended up hanging out with the only person in the shop. His name was Grant Hart."
Hart, who previously played keyboards in other Minnesota acts, became Hüsker Dü's drummer by default: He owned a drum kit – his older brother's, who was killed by a drunk driver when Hart was 10 – and the band couldn't find another drummer to join them.
At the onset, Mould largely shouldered the songwriting load on Hüsker Dü's early albums – the breakneck live 1982 LP Land Speed Record and 1983's Everything Falls Apart – but Hart would take the lead on early Dü cuts like the post-punk "Statues," "Wheels" and "What Do I Want?"
Although entrenched in the city's burgeoning hardcore scene – fellow Twin Cities rockers the Replacements and Soul Asylum would also find nationwide audience – Hüsker Dü didn't neatly conform to the genre's look or sound, with Hart often labeled a "hippie" due to his long hair and habit of playing drums barefoot.
While Mould's songs were bolstered by his trademark urgent and ragged delivery, Hart's vocals were more traditional, which only mildly smoothed the rough edges of the vociferous hardcore tracks. Their style was on display on songs like Metal Circus' "Diane," a song ostensibly about a murdered Minnesota waitress, and "It's Not Funny Anymore."
Hüsker Dü bristled against the rubric of the hardcore scene in other ways besides their music: Mould was openly gay and Hart often brought male partners on tour.
"When you're dealing with a very small orbit, it doesn't seem like such a big thing. Then, by the time it would be a big thing, the people you're dealing with have dealt with it," Hart told the AV Club in 2000. "They accept it, they're cool behind it, and they're doing it themselves, but we can't let the people down in Topeka think that's the case. And really, it didn't define much about the band. If anything, it would have been just another question mark, because we were so unlike the stereotype du jour."
The Metal Circus EP, Hüsker Dü's first release on the famed hardcore label SST, also marked a turning point for the band's songwriting as they shifted away from hardcore toward a more expansive, varied sound that incorporated elements of punk, folk and straight-up rock and roll. The result was Hüsker Dü's pioneering double-LP concept album Zen Arcade – "a thrash Quadrophenia," David Fricke wrote in his 1985 review – which served as a blueprint for the alternative music scene that would bubble up in its aftermath.
On the landmark album – which Rolling Stone placed as Number 33 on the 100 Greatest Albums of the 1980s and Number 13 on the Greatest Punk Albums of All Time lists – Hart contributed songs like the classic overdose saga "Pink Turns to Blue," "Standing by the Sea" and "Turn on the News," one of the Rock and Roll Hall of Fame's 500 Songs that Shaped Rock and Roll.
"Maybe the tension of the band, the challenging of one from the other … You hear some live bootlegs, and Bob and I are working so hard to outshine each other that it just lifts the whole thing off the ground with peace and wonderfulness," Hart said of the group's dynamics.
Related
1985's New Day Rising, released just six months after Zen Arcade, featured standout Hart tracks like the fan favorite "Books About UFOs," featuring Hart on piano, and "The Girl Who Lives on Heaven Hill." In December of that year, Hüsker Dü put out Flip Your Wig, which firmly cemented their power-pop sound. Hart's gorgeous "Green Eyes" and "Keep Hanging On" highlighted that LP, the band's last for SST before they made the jump to major label Warner Bros.
For 1986's Candy Apple Grey, the trio zoomed "in on personal relationships and private emotional torment with an impassioned directness that reached a dark apex," David Fricke wrote in his liner notes to the Huskers' live LP The Living End, which documented their 1987 tour. The album featured Hart's "Don't Want to Know If You Are Lonely," later covered by Green Day.
While Hart and Mould's songwriting continued to mature, the two butted heads creatively on the 1988 double LP Warehouse: Songs and Stories: On that 20-song album, Mould wrote 11 songs and Hart wrote nine.
"Point blank, Mould told me when we were working on Warehouse, 'We're not going to finish this song and this song because that would make the album equal: ten songs Bob, ten songs Grant. And that is never going to happen in this band,'" Hart said of the breakup.
Although Hart's drug use was also blamed for the dissolution of Hüsker Dü – "Only one of three drug-abusing people [in Hüsker Dü] was crucified about it," Hart said – it was the feud between Hart and Mould and suicide of Hüsker Dü's manager David Savoy on the eve of the Warehouse tour that ultimately led to the demise of the band.
Following his Dü tenure, Hart launched a solo career with 1989's Intolerance before assembling the Nova Mob, who released a pair of LPs, 1991's The Last Days of Pompeii and 1994's Nova Mob. That band's name was inspired by the Nova Express, a novel by William S. Burroughs; Hart and the legendary beat author fostered a friendship during the latter years of Burroughs' life, with Hart attending Burroughs' 1997 funeral in Lawrence, Kansas. Through Burroughs, Hart also became acquainted with Patti Smith, with Hart providing piano on her 2000 track "Persuasion."
Hart resumed his solo career with 1999's Good News for the Modern Man. His last completed album was 2013's The Argument – based on John Milton's Paradise Lost – but Hart, according to Norton, was working on a concept album based on the life of Unabomber Ted Kaczynski prior to his death.
In 2004, Hart and Mould reunited onstage at a benefit concert for Soul Asylum bassist Karl Mueller, who was battling throat cancer. The performance marked the first time the two Huskers played together in 16 years, and ultimately the last time.
As Norton told Rolling Stone in August after Hüsker Dü's Savage Young Dü box set was announced, tensions between the band had largely dissipated as they found a middle ground on the business side of the relationship. Norton, though, added that a Hüsker Dü reunion would "100 percent" never happen.
In July, Minneapolis' Hook & Ladder saluted Hart with an all-star concert with Norton and Soul Asylum's Dave Pirner. The gig featured Hart's last onstage performance.
"We made amazing music together," Mould wrote in his tribute to Hart. "We (almost) always agreed on how to present our collective work to the world. When we fought about the details, it was because we both cared. The band was our life. It was an amazing decade … Godspeed, Grant. I miss you. Be with the angels."
© Rolling Stone 2017