From RollingStone.Com:
How St. Vincent Battled Anxiety and Made Her Best Album Yet
Annie Clark had so much success it literally made her sick. But she channeled that stress into the bold new 'Masseduction'
By Kory Grow, Rolling Stone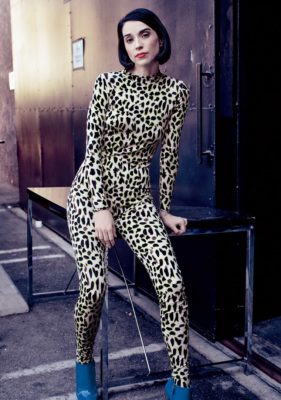 In 2014, Annie Clark's career could not have been going better. After years of carving out her place as a cult hero, the singer-guitarist – who records as St. Vincent – found a surprising level of success with her fourth LP, St. Vincent, which reached Number 12 on the album charts. Clark toured the world, fronted Nirvana at their live reunion at the Rock and Roll Hall of Fame induction ceremony and turned in one of the more memorable Saturday Night Live performances in recent years, playing inside a giant box and doing strange choreography between fuzz-guitar outbursts.
"If you want to know about my life, listen to this record," singer says
But if you ask Clark, that period wasn't a lot of fun. "I was going out of my mind," she says. "I was on the road constantly and just trying to keep up with the pace. It was go-go-go, and I didn't have incredibly well-developed coping mechanisms. I was just trying to keep my sanity." Clark started taking medication for anxiety and depression. Today, she credits pharmaceuticals with helping her move on to the next phase of her career. In fact, they even influenced her excellent new album, Masseduction (out October 13th); one of the first songs she wrote for the LP was "Pills," a jittery guitar-scraper with a childlike melody. Masseduction is Clark's most intriguingly complex album to date. She recorded with producer Jack Antonoff (Taylor Swift, Lorde), working up a set of songs about sex, drugs and sadness. The music she came up with straddles New Wave, ambient rock and straight-ahead pop, and features appearances by jazz virtuoso and Kendrick Lamar sideman Kamasi Washington, Jenny Lewis, and producer and Dr. Dre bassist Mike Elizondo. Model and actress Cara Delevingne (whom Clark dated before they split last year) guests on back-up vocals. "What sold me on working with Annie was how much she was willing to expose and how ready she was to rip it all apart and go all in," Antonoff says. "It's exactly in line with how I like to make records right now."
Clark, 34, has spent most of the past two years out of the public eye. But that doesn't mean she hasn't been busy. "I don't take time off," she says. "I tweeted this the other day, but it's true: 'Work is more fun for me than fun.'" Since St. Vincent, she's directed a short horror film for XX, an anthology spotlighting female directors, and announced plans to direct a film that would reimagine The Picture of Dorian Gray with a female lead. She also designed a custom electric guitar for Ernie Ball instruments and built a recording studio in Los Angeles.
After she turned in the completed Masseduction, Clark made an alternate, stripped-down version of the LP with pianist Thomas Bartlett (a release date for which has not been announced). While recording in New York and L.A., she would hold herself to epic studio binges, a process she calls "monastic fantastic." Says Clark, "I'm just totally burrowed and celibate and 100 percent dedicated. I took a nap earlier, which was great. But I don't really do anything but make things." The songs she has written can deal with anything from sexual role-playing to suicide. One of Masseduction's highlights is the sorrowful "Happy Birthday, Johnny," in which she sings about losing touch with a friend who is bogged down by drugs and depression. "That's a banger," she says sarcastically. Some artists might worry about being so revealing on record, but Clark doesn't mind inviting people in. "It's just my life," she says. "Besides, you can't fact-check a record."